Our Pricing
The package prices in our price guide represents an all-inclusive package providing you with all necessary equipment at a flat rate. No add-ons or surprises. Just one price. Firewires, jump drives, paper, ink, cards and card readers, batteries, etc.— all on site, all included. Our package price even includes local messenger fees, shoot storage fees, on-set proof printing, and our impressive Capture Stations (either the ready-to-shoot studio version or portable location kit). We take care of everything, which means you can concentrate on the client and the photography.
Our Capture Station
Designed around the concept of simplicity merged with functionality, this self-contained unit provides the operator with all the necessary tools. The extended monitor cable allows for a separate viewing station— positioned either with the photographer, or with the client, at a comfortable distance from the set.
On-Location
Digital Method's location setup has everything to help you shoot and relocate in seconds in any environment. With all day battery life, onboard printing, and viewing hoods, your shoot will run smoothly all day.


DMP Capture Station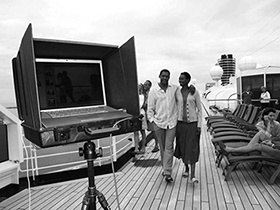 DMP Laptop Station